Modified Cars • Heavy Vehicles • Motorcycles
Port Stephens • Hunter Valley • Newcastle • Sydney • Central West NSW
Jason Robertson has been working in the Automotive industry since 1992. A qualified Motor Mechanic and Automotive Electrician, Jason has owned and operated his own small business based in Dubbo until 2015.
Jason has had extensive experience working on Passenger Cars, Heavy Vehicles and Motorcycles along with working for the RMS for a three-year period involved with Light and Heavy Vehicle Compliance. Jason has a passion for modified vehicles and motorsport. Jason can certify light vehicles, medium goods vehicles, heavy vehicles and motorcycles. Light vehicle is a vehicle with a gross vehicle mass up to and including 4.5 tonnes, heavy vehicle is greater than 4.5 tonne gross vehicle mass.
Based in Port Stephens NSW and Orange occasionally Jason Services the above and surrounding areas by appointment.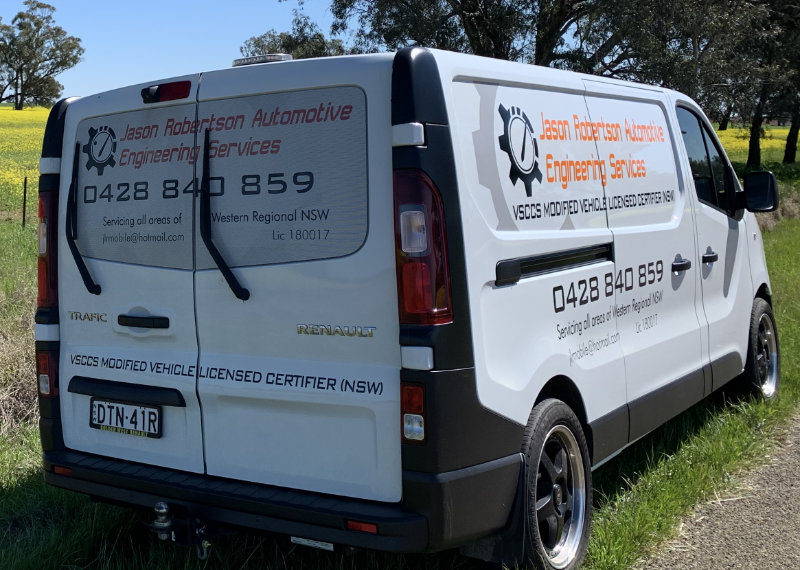 VSCCS Modified Vehicle Certifier (NSW)
Light Vehicle: C1, C2, C3, C4, C5
Medium/Heavy Vehicle: C1, C2, C3, C4, C5
Motorcycles: C1, C2, C3, C4, C5
Light Goods Vehicles: C1, C4
C1 - Braking Systems
C2 - Driving Controls and Aids
C3 - Seating and Occupant Protection
C4 - Engine, Fuel and Exhaust
C5 - Body, Chassis, Frame, Suspension, Steering, Transmission/Driveline, Axels or Lights
Port Stephens and surrounding areas • Nelson Bay: (Corlette, Soldiers Point, Fingal Bay, Anna Bay, Hawks Nest etc) • Newcastle and surrounding areas • Raymond Terrace • Port Macquarie • Forster • Taree • Singleton • Cessnock • Muswellbrook • Gosford • Mid North Coast • Lake Macquarie • Sydney (by Appointment)
Central West NSW • Orange • Bathurst • Parkes • Forbes • Dubbo • Mudgee • Cowra • Canowindra • Wellington.
Due to the complexity of modified vehicles, the nature and scope of vehicle modifications, testing required and location, pricing can differ.
I work on a case by case basis in which pricing is discussed with customers on an individual basis.
We'd love to hear from you. Just fill in this form and we'll contact you ASAP.
Some examples of modifications we can certify and test are:
Motorcycles:
Disability Controls
Motorcycle Sidecars
Engine Modifications
Front Fork Modification
Motorbike Towbar
Frame Modifications
Brake Modifications
Motorcycle Exhausts
Light Vehicles:
Brake System Modifications
Brake Assessment Manual Testing
Disability Driving Controls
Seating and Occupant Protection
Engine Conversions
Supercharger Certification
Turbo Certification
Fuel System Modifications
Exhaust System Testing
Noise Testing
Lane Manoeuvre Testing
Emissions Testing
Body Modification
Chassis Modification
Performance Engines
Steering Modifications
Suspension Modifications
4WD Lift Kits
Wheel and Tyre Change
Differential Conversions
Driveline Modifications
Rollcage & ROPS
Transmission Conversion
GVM Upgrade or Downgrade
Wheelchair Loader
A Frame Towing
Child Restraints
Caravan ATM/GTM
Medium and Heavy Vehicles:
NHVR Modification Plates
Engine Changes
GVM/GCM re-rating
ATM/GTM re-rating
Differential and driveline
B'Double Rating
Road Train Rating
Road speed Limiter Installation
Seating and seat belt change
Fuel tank alteration
Wheelbase extension or reduction
Air Brake modification
J1 Body mounting
Cabin mounting
Trailer modification
PTO certification
Tow Truck Certification
Vehicle mounted lift systems
Cranes & Tailgate loaders
Fifth wheel and kingpin
P1 Tow couplings
Suspension Changes
Tyre and Rim Changes